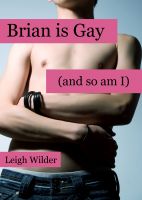 Part of the Great Hard-drive Dump of 2012. (All of the stories released independently in the last few weeks are things that having been sitting on my hard-drive, probably because I missed the submission deadline for whatever anthology I was trying for.)
I really like this story. It's not so much porn, though there is sex in it, as it is a story about a middle-aged man
finally
coming to terms with his sexuality when his son brings his very gay college roommate home for Thanksgiving. His proclivity for young hot men kicks in, and while Brian is up for it, he has a few choice words to say to him afterwards.
I'm offering this story for free
for one week on Smashwords. Unfortunately Amazon won't let me offer it free without committing to a 90-days-only contract with them, so if you go there you will have to pay a buck.
Once I have a decent collection of stories I'm going to bundle them up into one work and sell it for 3 bucks, which will be massively cheaper for the reader, but the problem is I write all over the board. One minute its gay, the next straight. From fetish to vanilla and back again.